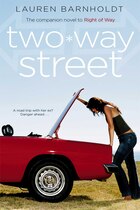 TITLE:
Two-Way Street
AUTHOR:
Lauren Barnholdt
SUMMARY:
This is Jordan and Courtney, totally in love. Sure, they were an unlikely high school couple. But they clicked; it worked. They''re even going to the same college, and driving cross-country together for orientation.
Then Jordan dumps Courtney -- for a girl he met on the Internet.
It''s too late to change plans, so the road trip is on. Courtney''s heartbroken, but figures she can tough it out for a few days. La la la -- this is Courtney pretending not to care.
But in a strange twist, Jordan cares. A lot.
Turns out, he''s got a secret or two that he''s not telling Courtney. And it has everything to do with why they broke up, why they can''t get back together, and how, in spite of it all, this couple is destined for each other. - From Publisher
REVIEW:
A perfect ya chic-lit for those days where you want to read something that's easy to sink into and just puts a smile on your face.
From the moment I started reading this I figured I was going to love. I love Barnholdt's style of writing and how easily she makes the story flow. Yes, at times the dialogue and inner dialogue is a bit stiff and I was so happy when Barnholdt quit making Courtney's inner thoughts have point form but those are easy things to look past. The romance between Jordan & Courtney was a delight to read and I think the jumping from previous events to current was well balanced and really assisted the story. I got my information and it never seemed chopping when she bounced.
However, never have I read a teen/ya book before and felt so stinking old! I do not remember guys being like this and nor do I remember girls acting like some did in this story. It's not like it's been decade upon decade that I was last in HS but man, times must have changed. Oddly at the same time I felt nostalgic. My husband and I were HS sweethearts and I remember when he broke up with me how horrible it was. Barnholdt did a fabulous job in giving each person their side through inner thoughts but never letting it pass to the other verbally. It made the story so much better and allowed me to be more invested in them as a couple.
I'm definitely going to have to look into more books by this author as this was a thoroughly enjoyable read.
RATING:
♥ ♥ ♥ ♥ ♥