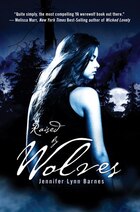 TITLE:
Raised by Wolves
AUTHOR:
Jennifer Lynn Barnes
SUMMARY:
Adopted by the Alpha of a werewolf pack after a rogue wolf brutally killed her parents right before her eyes, fifteen-year-old Bryn knows only pack life, and the rigid social hierarchy that controls it. That doesn''t mean that she''s averse to breaking a rule or two.
But when her curiosity gets the better of her and she discovers Chase, a new teen locked in a cage in her guardian''s basement, and witnesses him turn into a wolf before her eyes, the horrific memories of her parents'' murders return. Bryn becomes obsessed with getting her questions answered, and Chase is the only one who can provide the information she needs.
But in her drive to find the truth, will Bryn push too far beyond the constraints of the pack, forcing her to leave behind her friends, her family, and the identity that she''s shaped? - From Publisher
REVIEW:
A definite must read for Were fans.
I stumbled across this book over at
Katie's Book Blog
and decided that due to my love for the werewolf genre I should request it from my library. I'm so glad I did!
The story kicks right off with establishing that Bryn is a bit of a trouble maker and definitely not one to submit to her Alpha, in fact she seems to enjoy pushing him as much as she can, especially since she's not actually a were. I think that element is what I found so intriguing about this book is how Barnes meshed her humanity with what she knew from being raised in a pack. The blend wasn't anything like I've ever read and really made for some crazy twists. However, at times Bryn's annoyance at the Pack grated me on, especially when she flipped from one side to the other. After reading the book I understood where Barnes was going but for a bit there it seemed OOC for what we knew about Bryn.
I would love a best friend like Devon. He's theatrical, good in a bind and very protective of Bryn. At the beginning I though for sure he would be the potential love interest OR that he'd be the "Jacob" of this ya/teen story. Thankfully that never happened and I applaud Barnes for not having to make me choose. I would love to read a short story about him & if Barnes does continue this then I'd be up for some Lake/Devon shippy-ness.
My biggest complaint with this story would be near the end. Without giving too much away I felt that Barnes was on the ledge of poorly written super-hero stuff. You know, like if you read BAD fanfiction and the character is so extremely awesome you automatically cringe. Thankfully it was just for a moment and one could over-look it, but it did sorta irk me a bit.
All around I really enjoyed this book. There's a few dull spots but after finishing it I'm really glad I listen to Katie and picked this one up.
RATING:
♥ ♥ ♥ ♥ ♥