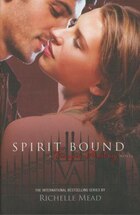 TITLE:
Spirit Bound
AUTHOR:
Richelle Mead
SUMMARY:
Dimitri gave Rose the ultimate choice. But she chose wrong.
After a long and heartbreaking journey to Dimitri's birthplace in Siberia, Rose Hathaway has finally returned to St. Vladimir's and to her best friend, Lissa. It is nearly graduation, and the girls can't wait for their real lives beyond the Academy's iron gates to begin. But Rose's heart still aches for Dimitri, and she knows he's out there, somewhere.
She failed to kill him when she had the chance. And now her worst fears are about to come true, Dimitri has tasted her blood, and now he is hunting her. Only this time, he won't rest until Rose joins him; forever. - From Publisher
REVIEW:
Clearly the most epic and riveting book in this series thus far. It grabbed me from the start and refused to let go even after I finished. In fact I'm tempted to try and break into Mead's computer just so I can know what's going to happen. In fact, December 7th cannot come fast enough for this avid fan.
Doing this review without spoiling the crap out of you all is going to be impossible. So, perhaps if you haven't read this book yet, don't read further. If you've never checked out this series I must ask why the frak not? Go pick it up, don't read this, just go to the nearest bookstore/library and start reading, you won't regret.
Rose just can't seem to help herself when it comes to Dimitri and trouble. Admittedly I'm cheering for Adrian, which I know is now turning into an epic argument just like who Buffy should end up with is, but I seem to like cheering for the one that is least likely to occur (oddly I was all about Angel & Buffy). I love how Adrian never hides how he feels, he's willing to make concessions and compromising to make the relationship healthy, he's head over heels for Rose and I find him just book hot. Of course, I'm not blind to that fact that by the time this series wraps up I'm sure Rose will be with Dimitri. *sigh* Not that I don't love Dimitri, because I do I just can't help it. I'm a Jacob lover as well, so you can see my problem.
So much happened in this book Rose's journey in trying to discover if it's possible to turn Strigoi back was intense and I loved that it wasn't the only huge issue going on in her world. Mead has done a beautiful job of balancing all the various HUGE exciting plots all at once. There's lots going on and I never got confused or felt like she was trying to fit too much in. And while some issues were wrapped up others weren't. This book is complex in the best ways. Nothing fits in its peg properly and just when you think you've got a character figured out Mead pulls the rug out from under you.
The next book is going to be so intense. With the fallout from Rose losing Vicktor; I'm sure that guy isn't just going to disappear into nothing, he's a major player and I can't wait to see what all happens with his plot line. You've got accusations for murder, which really? *dies* Is clearly going to be epically awesome especially with Mr. Mobster himself in the folds. Then you've got Adrian & Dimitri and you all know how I feel about that little triangle.
I cannot say enough about my love for this book. While I was reading it there were moments where I had to get up and step back because I didn't want it to end and I was just eagerly searching for someone to squee about it with. I may have to get my sister-in-law hooked in this series.
Pick up this book, read & the comment and we can gush about it together. EPIC people EPIC!
RATING:
♥ ♥ ♥ ♥ ♥