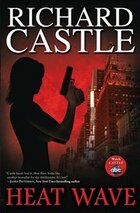 TITLE:
Heat Wave
AUTHOR:
Richard Castle
SUMMARY:
HEAT WAVE is a tie-in to the ABC primetime show, CASTLE, that premiered in March 2009. The main character of the show, Richard Castle, is a bestselling mystery writer. HEAT WAVE is his next book: Mystery sensation Richard Castle, blockbuster author of the wildly best-selling Derrick Storm novels, introduces his newest character, NYPD Homicide Detective Nikki Heat. Tough, sexy, professional, Nikki Heat carries a passion for justice as she leads one of New York City's top homicide squads. She's hit with an unexpected challenge when the commissioner assigns superstar magazine journalist Jameson Rook to ride along with her to research an article on New York's Finest. Pulitzer Prize-winning Rook is as much a handful as he is handsome. His wise-cracking and meddling aren't her only problems. As she works to unravel the secrets of the murdered real estate tycoon, she must also confront the spark between them.
We will be making the first ten chapters (approximately) available for digital download from ABC.com over the summer to coincide with the repeat schedule of the show. Then, in the fall, the entire book will be published as a trade paperback. We will be working with ABC Marketing to publicize the downloads and the book. - From Publisher

REVIEW:
Once my fandom shaped heart imploded from delight in reading this book I realized something. Non-Castle fans probably wouldn't enjoy this as much as I did.
I loved the characters because I both love the show and know the history of how and why this book came to fruition. If you don't watch ABC's "Castle" my gut tells me that you wouldn't be giving this book such a high rating. Not because the book itself wasn't readable or enjoyable but because unless you're a fan it wouldn't be memorable. This book is different than most tv tie-ins. The general tie-in takes the actual characters and works a plot around them. For example in Keith DeCandido's "Nevermore" (a Supernatural tie-in) you've got the Winchester brothers on a hunt. You probably wouldn't pick it up unless you are a "Supernatural" fan. Whereas "Heat Wave" is about fictional-fictional (head hurt yet?) characters. Theoretically you wouldn't have to watch the show to read this book, though to truly enjoy this read it'd probably be a good idea.
My favorite part of this book is that we got "Rook" and "Nikki" finally together, which isn't a spoiler if you've watched the show and specifically the scene with Stana Katic's Kate hiding in a bathroom stall trying to find the smut in said book. The pairing is something I really hope in another season or two we do finally get. I loved the way they played off each other and their characters are very tangible in book form. I'd be quite happy if we got more of these as the seasons continue.
If you've watched even one or two episodes of "Castle" or if you are simply a fan of Nathan Fillion you'll probably enjoy this book. However, if you are addicted to Nathan Fillion and "Castle" you'll be bouncing about deliriously happy while reading this.
RATING:
♥ ♥ ♥ ♥
♥
To see more books I've read and reviewed, plan on reading or currently reading please check out my Shelfari