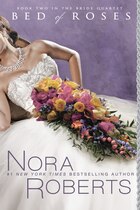 TITLE:
Bed of Roses
AUTHOR:
Nora Roberts
SUMMARY:
Love blooms in the second novel in Nora Roberts's celebrated Bride Quartet series.
As little girls MacKensie, Emma, Laurel, and Parker spent hours acting out their perfect make believe "I do" moments. Years later their fantasies become reality when they start their own wedding planning company to make every woman's dream day come true. With perfect flowers, delicious desserts, and joyful moments captured on film, Nora Roberts's Bride Quartet shares each woman's emotionally magical journey to romance.
"In Bed of Roses," florist Emma Grant is finding career success with her friends at Vows wedding planning company, and her love life appears to be thriving. Though men swarm around her, she still hasn't found Mr. Right. And the last place she's looking is right under her nose.
But that's just where Jack Cooke is. He's so close to the women of Vows that he's practically family, but the architect has begun to admit to himself that his feelings for Emma have developed into much more than friendship. When Emma returns his passion-kiss for blistering kiss-they must trust in their history...and in their hearts. - From Publisher
REVIEW:
Enjoyable romance novel and a lovely second book in the Bride Quartet. Roberts always writes a beautiful tale and I've found this series really delightful. I am not big into straight romances, but every once and a while I like to dive into one and this series has been a great outlet. Fans that love straight romance will lap this up and be satisfied with it.
While Mac is probably my favorite character with Laurel running in second I was worried that Emma's character wouldn't grab me. Thankfully I found myself quite liking Emma and her romantic outlook. Sometimes authors write the romantic character with two feet off ground and their heads in the clouds that they tend to bug me. Emma did not fit this. While she was romantic and enjoyed romance she wasn't a push over and didn't see things that weren't there. Jack. Jack was just what you expect from Roberts. Hot in that overly male yet romantic way.
A good read and I'm looking forward to the next book coming out.
RATING:
♥ ♥ ♥
♥ ♥
To see more books I've read and reviewed, plan on reading or currently reading please check out my Shelfari