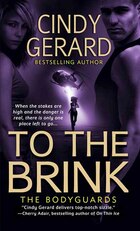 TITLE:
To The Brink
AUTHOR:
Cindy Gerard
SUMMARY:
Working on highly sensitive diplomatic affairs, Darcy Prescott is a natural target for terrorist kidnappers. But when she's mysteriously plucked off a street in Manila one sultry night, Darcy's disappearance isn't what it seems.
The moment Special Forces soldier Ethan Garrett laid eyes on Darcy, he knew she was the woman he would marry-and he did. But when their marriage fell apart, Ethan never really recovered. Now a highly paid bodyguard, Ethan quickly slips back into combat mode when he learns of Darcy's disappearance and calls in old favors to assemble a rogue rescue team..
Tracking Darcy all the way to the jungles of the Philippines, Ethan knows every move he makes could mean the difference between life and death. His love for Darcy burns stronger than ever. But when he learns the true reason for her abduction, it may be too late to save her-or himself. - From Publisher
REVIEW:
Finding romantic/suspense writers that become addictive are a rarity for me. I find myself often cringing at some of the cheesy lines when it comes to the characters declarations of love. Anyways, I've been wanting to read Cindy Gerard's The Bodyguard series for awhile. I like bodyguards, they fit into my alpha male love so I was eager to read this series. Got my hands on this book through my local used bookstore and now I must track the rest of this series down. Immediately.
Gerard most definitely did her research. When it came to Ethan and his team I felt that the dialogue and actions where true to life, that the men could easily be non-fiction rather than fiction. I love when an author does their research, they end up adding those little details that, for me, make a story pop and often suck me into the world they've created. Along with all those fine delicious details that Gerard added for reading the books out of order I never felt lost. Each character was given a little back history to make a new reader become in the loop, yet at the same time I never once felt like I was getting an over-whelming amount of information. Enough that I wasn't scratching my head wondering why Ethan trusted this group of guys. Each was unique and I'm looking forward to getting the two previous books read before I continue on with this series.
Even the plot was engaging. Gerard did bounce back and forth from present to past, but it was always clearly marked, which I loved (sometimes I just don't want to get pulled out of rhythm wondering where I am in the time-line of event). I think the fact that we were
shown
past events make Ethan & Darcy's connection and love much stronger. Plus, it really showed how much each of the characters had grown during the time apart and made me fall more into what they were going through. Generally I find when authors jump around in the time line I get confused and can't seem to get my rhythm, I'm glad that didn't happen with this book. Gerard pulled it off flawlessly.
Definitely a perfect book for an enjoyable fast past read that will keep you hooked until the very, very end.
RATING:
♥ ♥ ♥ ♥ ♥