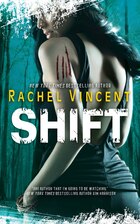 TITLE:
Shift
AUTHOR:
Rachel Vincent
SUMMARY:
Being the first female werecat enforcer isn''t easy. Scars accumulate, but I''m stronger in so many ways.
As for my personal life? It''s complicated. Choices worth making always are. Ever since my brother''s death and my father''s impeachment, it''s all I can do to prevent more blood from spilling. Now our Pride is under attack by a flight of vicious thunderbirds. And making peace with our new enemies may be the only way to get the best of our old foe.
With the body count rising and treachery everywhere, my instincts tell me to look before I leap. But sometimes a leap of faith is the only real option…. - From Publisher
REVIEW:
The Pride is under attack from the Thunderbirds, vicious shape-shifters who are avenging the death of one of their cocks. (Yes, the humor and mocking is so easy it's not even worth it.) While we understand their need for vengeance, considering that Faythe and the Pride are planning on attacking Malone for his sole part in the murder of Ethan, the Thunderbirds are after the wrong pack and it's up to Faythe to prove their innocence.
I loved this book, and perhaps because it sets up a lot for the finale installment of this series
Alpha
coming out in fall. Logically they need some more allies and unknowing Malone has given them just that. I must say, I love that Malone isn't a dumb nemesis. The alpha is smart in how he plays his hand. Attacking but managing to show that he is simply responding to what Sanders, Faythe's father & Alpha is doing. It's refreshing that he's not a dumb foe, makes it more challenging and really sets things up.
Question, am I the only one that hopes Kaci & Jace end up together? I know there isn't even snippets of these two but I feel like they'd be a good fit and oddly this is one of the few triangles where I am not rooting for the 'other' guy. I get Faythe's feelings towards Jace but I have huge love for Marc. He's be strong through out the series and while I think he needs to learn to control his temper I think he brings something out of Faythe that we haven't seen others manage to pull out of her.
Alpha
is going to be epic and while I think I know who Faythe will choose Vincent has manage to throw me for loop after loop so who really knows. At this point Faythe could decide neither. What I am sure of is that the final book to this series will be amazing and that I won't get any sleep until I'm finished it.
RATING:
♥ ♥ ♥ ♥ ♥