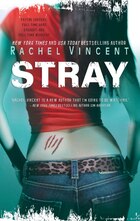 TITLE:
Stray
AUTHOR:
Rachel Vincent
SUMMARY:
I look like an all-American grad student. But I am a werecat, a shape-shifter, and I live in two worlds.
Despite reservations from my family and my Pride, I escaped the pressure to continue my species and carved out a normal life for myself. Until the night a Stray attacked.
I'd been warned about Strays--werecats without a Pride--constantly on the lookout for someone like me: attractive, female and fertile. I fought him off, but then learned two of my fellow tabbies had disappeared.
This brush with danger was all my Pride needed to summon me back...for my own protection. Yeah, right. But I'm no meek kitty. I'll take on whatever--and whoever--I have to in order to find my friends. Watch out, Strays--'cause I got claws, and I'm not afraid to use them.... - From Publisher
REVIEW:
I've seen this book on various friends shelf over at
Shelfari
but for some reason never wanted to pick it up. I don't know my full reason for. I remember being worried that it was going to be a bit over the top. Female shape-shifter a bit ditzy, perhaps I should blame it on the summary, which I don't think does the book justice and makes it sounds bad. Or it could be that I'd read a review and combined with the summary I cringed and continued on, who knows what goes on in my crazy mind. Whatever had stopped me from initially picking up this book is obviously evil because I loved this book, in fact, I chewed through this book in a night and it was awesome!
The story kicks off with a good jump kick in regards to plot. I loved how we were tossed into our leads world, we got information but there was so much left up in the air. Kudos for authors not laying down the full 411 within the first 20 pages. There's gotta be some intrigue and mystery in regards to characters past that keep a reader engage. It's a tricky balance to keep us in the loop but at the same time not showing the full hand.
Generally I enjoyed the character of Faythe, there were a few times that I felt like she flipped and flopped a bit too much. However, I notice that often with the first book in a series the female leads aren't fully established and I'm always willing to give a little for what I consider to be missteps. All in all I enjoyed her, I liked how stubborn she was and how that often ended up getting her into trouble. The romance in the book was well written I only hope that as I read this series Vincent stays clear of the guy that Faythe ends up with doesn't become boring and mooshy. I loved all the tension in this book, the push & pull. (For those that have read my reviews know that I love tension and am always okay if the decision isn't made within the first book of the series. I love the tug-of-war.)
The biggest argh moment I had with this one was some of the heavier content, not that it was included in the book just that I'd like there to be more repercussion for them. I believe Briggs (author of the Mercy Thompson series) has been the only author that has really followed through with any sort of assault issues. I'm okay if an author treads there but I want it to be written properly and I felt like some of the characters bounced back too quickly. With that said I suppose one could argue that being a were gives a different take on it, but since I'm not a Were I hope in the second book we get a bit more of the consequences from this book.
All in all I loved this opening book and I've already got the rest of the series in my possession and I'm eagerly awaiting to read them. The series is sorta reminding me of Mercy Thompson series & Kitty Norville series, both of which I love.
RATING:
♥ ♥ ♥ ♥ ♥