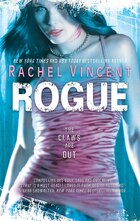 TITLE:
Rogue
AUTHOR:
Rachel Vincent
SUMMARY:
I know that better than most. Since rejoining the Pride, I've made big decisions and even bigger mistakes: the kind paid for with innocent lives. As the first and only female enforcer, I have plenty to prove to my father, the Pride and myself. And with murdered toms turning up in our territory, I'm working harder than ever, though I always find the energy for a little after-hours recreation with Marc, my partner both on and off duty.
But not all my mistakes are behind me. We're beginning to suspect that the dead are connected to a rash of missing human women and that they can all be laid at my feet--two or four, take your pick. And one horrible indiscretion may yet cost me more than I can bear.... - From Publisher
REVIEW:
Hello amazing sequel that tears things apart and made me full of happy!
In this sequel Vincent deserves lots and lots of cookies and shiny things. For those that have been following me for awhile know I like broken characters and when it comes to any sort of romance I like conflict and choices, hard choices and a path that is full of traps and pain. Vincent delivered all of that in this sequel. The character of Faythe goes through lots and I loved watching the little growth we got to see with this book. Yes, she's flawed but that's how I like my butt-kicking females, flawed. Yet, despite those flaws I didn't find Faythe a character that rubbed me the wrong way. She brings good ideas to the table and while she doesn't always have it figured out she's stubborn enough to not let the issue die until it's remedied.
With the second book of the Shifters series we got some fallout from Faythe's past. I feel like the first book really set us up for this storyline but it wasn't predictable where I found myself bored. There's always a web of complication to keeps things from going stale and the repercussions are heady and often leaves Faythe stumbling about trying to fix things. However, the girl could definitely use a class in explaining and learn to sometimes just suck it up and offer another solution. Of course, then she would've be her and we wouldn't get to the see the perfectly paced changes in her character.
I don't want to dive too much into the plot but I will say that this book sets up the rest of the series (which I've now fully read), which is explosive and amazing. I am so glad I picked this series up, I'm in love and addicted and now cannot wait for the final book of the series to be released this fall.
If you haven't already, go snag this series, you'll love.
RATING:
♥ ♥ ♥ ♥ ♥