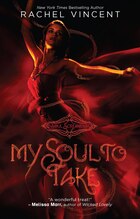 TITLE:
My Soul to Take
AUTHOR:
Rachel Vincent
SUMMARY:
She doesn''t see dead people, but…
She senses when someone near her is about to die. And when that happens, a force beyond her control compels her to scream bloody murder. Literally.
Kaylee just wants to enjoy having caught the attention of the hottest guy in school. But a normal date is hard to come by when Nash seems to know more about her need to scream than she does. And when classmates start dropping dead for no apparent reason, only Kaylee knows who''ll be next… - From Publisher
REVIEW:
Vincent is rapidly becoming one of my favorite authors. I loved this series opening, the whole concept feels unique and different even though it really isn't. Gotta love authors that can take a concept and make it fresh and new.
This book starts off with best friends Emma & Kaylee sneaking into a club. I like that while Kaylee isn't an 'it' girl she also isn't a social leper either. I enjoy that she sneaks into clubs and does thing that your average teen does. I found her character to be one that I easily related to and that made this book highly addictive. Yet despite the normalcy I loved that she had a tortured and battered past. That her life wasn't fully average. I do think that considering her stint in a ward that there would be more damage. I found her softness towards her Aunt & Uncle at certain moments in the book to be off, or perhaps I'm just cold-hearted but I wanted to see more of her rage, hopefully in the second book we get more of it. Anger at her father for allowing it and now swooping in. (Yes I realize there is a prequel to this series but I'd still like some backlash.)
Hottie, Nash Hudson is just that a hottie. I naturally liked him and he did some unexpected things that I enjoyed. My biggest issue with him is that for someone with such a play-boy reputation he didn't really act like it. Again, Vincent could be doing her trade-mark zig when I think she'll zag but I do hope we get more back-history on him. Was he that much of a play-boy and if so are his intentions with Kaylee fully honest or is he hoping for something in return??
I love that Vincent does that. That her writing style isn't predictable and that really, she could totally change things. I love that I have another few books to eat through before I'm caught up, because her writing is such an addiction for me! I cannot wait!
RATING:
♥ ♥ ♥ ♥ ♥