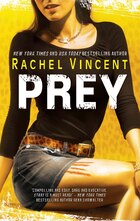 TITLE:
Prey
AUTHOR:
Rachel Vincent
SUMMARY:
Sometimes playing cat and mouse is no game...
Play? "Right." My Pride is under fire from all sides, my father's authority is in question and my lover is in exile. Which means I haven't laid eyes on Marc's gorgeous face in months. And with a new mother "and" an I-know-everything teenager under my protection, I don't exactly have time to fantasize about ever seeing him again.
Then our long-awaited reunion is ruined by a vicious ambush by strays. Now our group is under attack, Marc is missing and I will need every bit of skill and smarts to keep my family from being torn apart. Forever. - From Publisher
REVIEW:
And the plot thickens. Just when you thought it was safe and time for the Pride to get their political ducks in a row after Malone's heavy handed politics more trouble is brewing in the 'free zone' and this time it's out for Marc.
It seems that with this book Vincent decided to let all the proverbial crap hit the fan. It was an endless storm and it seems like Faythe and her Pride are getting attacked on every side. We've got the power hungry Malone vying for the Alpha's spot and hoping to turn everyone against him and his Pride.
With Marc being kidnapped, leaving too much of his blood in his home to look like he survived the attack Faythe is on the verge of collapse. But, with Marc's disappearance we do get to see her step up and plot the demise of those that hurt him. With her hunt for him just discovers some more secrets that while she knows are connected to Malone's plot against them she can't scrounge up any hard evidence. To make things more dire in her world Malone attacks and leaves Faythe in a tail-spin of agony.
And just when I thought she was done with making stupid mistakes she makes another one, one I'm not sure will bode well for anyone. While I could kind of see it coming I was still (seems to be a trend with this series) shocked after it. Especially with the fallout of.
This book doesn't let up for one moment and I couldn't believe everything that was packed into this one. I love Vincent's style of writing and how she weaves so much together and it all ends up cohesive and balanced.
RATING:
♥ ♥ ♥ ♥ ♥