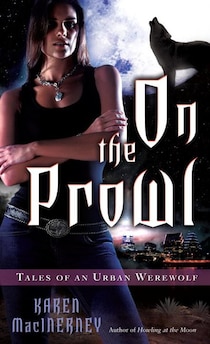 TITLE:
On The Prowl: Tales Of An Urban Werewolf
AUTHOR:
Karen McInerney
SUMMARY:
Talk about a bad-hair day!
Sophie Garou is a master at taming her inner beast, which comes in handy since she's a werewolf. With a big promotion at work and a supersexy boyfriend, Heath (whom she recently spotted leaving a jewelry store with a beguiling ring box), she's one happy girl.
But when Heath starts spending long nights at the office with his new associate-a dead-ringer for Career Day Barbie-Sophie smells trouble. And when her professional relationship with her big new client-who also happens to be Texas's brilliantly blue-eyed most eligible bachelor-begins to sizzle, she wonders if her animal instincts are leading her in the wrong direction. Just when it seems that things can't get any more complicated, they do. The Houston werewolf pack has sniffed Sophie out, and their message is chillingly clear: you're either with us or against us. And unless she can prove that she's with them, the next full moon may just be her last. - From Publisher
REVIEW:
Yay for the second book and for not having to wait for it. That is one of the things I love about discovering an older series, the books are all out there and the waiting time is limited in length.
We start this second in the trilogy months after the first. Sophie is trying to get her life back to normal and succeeding fairly well. She's now made partner but the waters get rough pretty quickly. Soon she has to meet the Alpha of Houstin and try to find a way not to end up as a furry rug, she's getting threats on pretty much everyday that ends with a 'y'. Her boyfriend and hers relationship isn't going so smoothly and her client, (Texas Monthly's Hottest Bachelor) seems to be very interested in her.
This book had some more strength than the first, but there were definitely still moments that I found the writing to be a bit elementary and frustrating. I think McInerney trying to blend Sophie's wolf and human side (in both relationships and personality) was a bit awkward and when things were discovered it all happened so fast that it felt rushed. Even things with Heath, I felt events that happened were more an excuse to put Heath on the edge while other things were going on in Sophie's world.
I am excited to still read the last of this trilogy but in all honesty, I am a bit disappointed with this series. A quick read but not one that I'm addicted to and or wholly invested in.
RATING:
♥ ♥ ♥ ♥ ♥