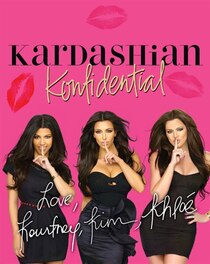 TITLE:
Kardashian Konfidential
AUTHOR:
Kim Kardashian, Kourtney Kardashian, Khloe Kardashian
SUMMARY:
Confessions of life as a Kardashian sister-stuffed with family stories, advice, beauty tips and exclusive gorgeous full color photos, personal snapshots and the inside scoop on their life growing up into the gorgeous Dash DollsThe stars of not one but two #1 reality television shows, and frequent cover girls on all the weekly celebrity magazines, Kourtney, Kim & Khloé Kardashian live large and glamorous lives. But not everything is on the screen-how they really live, get along (and feud) as sisters is the subject of the Kardashians' very first book. Kardashian Konfidential is their sisterhood autobiography, full of fun facts about their childhoods (guess who was the ugly duckling?), their beauty and style secrets, the wisdom they learned from their beloved father, and the street smarts they got from their mother that sustain them in life and in business. Kardashian Konfidential is bursting at the seams with photos, memorabilia, diary entries, datebook pages, and old Valentines the girls sent to each other, as well as many other artifacts put together just for their book. As glamorous, fun and fashionable as the girls themselves, this is the perfect buy-one-for-me-buy-three-for-friends fan's book. - From Publisher
REVIEW:
I am addicted to the Kardashian's, I find them so enjoyable and such an easy/mindless show to watch. I have to say though, that this book doesn't really give you TOO much into their worlds. You get some history but a lot I had known either through the show or through Wikipedia. Still, it was fun seeing the pictures and all that. They do give some excellent styling tips and some fun recipes I wouldn't mind trying. Mostly, as a fan, I just enjoyed reading it.
Was a very fast read and it does make for a cute coffee table book.
RATING:
♥ ♥ ♥ ♥ ♥