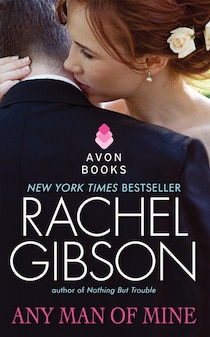 TITLE:
Any Man of Mine
AUTHOR:
Rachel Gibson
SUMMARY:
Autumn Haven's Las Vegas "to-do" list said to catch a show and play the slots-not wake up married to a sexy jerk like Sam LeClaire. The first moment she saw him eying her like a luscious piece of the dessert buffet, her usually responsible self told her to run. And she did-right into the wildest fantasy weekend of her life. But Monday morning jolted her back to reality, and before she could say "pass the coffee," Sam was gone.
Now a successful wedding planner, Autumn hasn't clapped eyes on the heartbreaking hockey superstar for over two years . . . until she organizes his teammate's "Special Day," where Sam makes a big play to pick up where he left off! But she has vowed any man of hers plays for keeps. Is Sam the man for her or does she banish him to the sin bin forever? - From Publisher
REVIEW:
What I love about Rachel Gibson is that she has quickly become an author that I can pick up and thoroughly enjoy with no worries of disappointment. Her style is one I gravitate towards - character driven rather than skin driven. I use to only read romantic suspense because I just have never ever been able to get into the whole 100% pure romance. That should explain why it has taken me FOREVER before I got into chick-lit, I had assumed (and there are some out there) that it was going to be pure fluffy smut, which I dislike. That isn't the case with Gibson. She always delivers fun characters that seem real and I love how this 'series' is surrounded around a hockey team. Yes, there is some smut but it never drives the story.
Especially with this book I found myself so immersed in Autumn & Connor's world and how the events had shaped her. I loved how Gibson wrote Autumn's feelings towards Sam, Connor's Dad, from pure hatred to nothing. The emotions felt real and it was refreshing that Autumn had moved passed it and was focused on giving Connor a healthy home, that she had accepted Sam for being the tool that he at times was. Not that she was okay with how he treated his relationship with his son but not seeing the point in trying to get Sam to change. That indifference made the story pack a little extra punch.
We have had Sam in the previous books and he's always been portrayed as a bit of a horn dog and he was 90% that guy in this book. Not at as much in the beginning and I have to admit I was a bit perturbed by that. I wasn't sure if Gibson didn't want to make him unlovable to us readers by going too far or if maybe Sam put on a front around the 'boys'. This little inconsistency, in my opinion, wasn't a huge deal just a little something I noticed.
If you are looking for some fantastic beach/patio/road trip books I highly recommend snapping up this book along with the rest from Gibson's Chinook's Hockey Players series. I don't think you'll be disappointed; I stayed up to 1:30 this morning in order to finish the book so that's gotta tell you something.
RATING:
♥ ♥ ♥ ♥ ♥