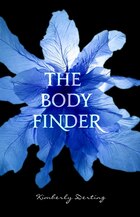 TITLE:
The Body Finder
AUTHOR:
Kimberly Derting
SUMMARY:
Violet Ambrose is grappling with two major issues: Jay Heaton and her morbid secret ability. While the sixteen-year-old is confused by her new feelings for her best friend since childhood, she is more disturbed by her "power" to sense dead bodies-or at least those that have been murdered. Since she was a little girl, she has felt the echoes the dead leave behind in the world . . . and the imprints that attach to their killers.
Violet has never considered her strange talent to be a gift; it mostly just led her to find dead birds her cat left for her. But now that a serial killer is terrorizing her small town, and the echoes of the local girls he's claimed haunt her daily, Violet realizes she might be the only person who can stop him.
Despite his fierce protectiveness over her, Jay reluctantly agrees to help Violet find the murderer-and Violet is unnerved by her hope that Jay's intentions are much more than friendly. But even as she's falling intensely in love, Violet is getting closer and closer to discovering a killer . . . and becoming his prey herself. - From Publisher
REVIEW:
A kudos to Derting for writing a strong female lead.
Violet has captured my heart and she's the sorta female lead that I love. The struggle she has with these new-found feelings for her best friend Jay was beautifully written and so realistic. The push and pull and fear of 'outing' herself and ruining their lifetime friendship was a thrill to read. There were so many aspects that made me love their story. How long they'd been friends and the comfort they had with one another along with Jay knowing her secret ability and him never viewing it as creepy or doubting it. Finally, we had a female that wasn't going to be walked on. There are scenes where Jay and her are arguing and I love that Violet didn't back down. She wasn't annoying stubborn or written in a way that rubbed you the wrong way, she just wasn't a pushover or a lovesick puppy. What clinched my love for this character was that when Jay was being obtuse or they was friction between the two she didn't allow him to walk over her or push her into anything. Often, I feel like the female lead allows for poor behavior because she loves him. It was refreshing to see how healthy and strong a female she was. To appreciate what he did but still not excuse bad behavior.
The plot itself was amazing! It had a far more adult feel to it and that often came from chapters being written from the villains point of view. It gave it a grittier, darker edge to the book, which I loved. Plus, Violet and her family had already come to terms with her special skill. It wasn't a taboo topic or something they shunned. In fact her parents worked around to try and discourage her searching out some of the 'echos' but at the same time finding answers (the little cemetery) to give her peace. The parent child dynamic was very refreshing. They were as normal as you could be considering that their child could hear the echos of those (human and animals) that were murdered. The way the book started off with Violet (at a young age) going for a walk with her father and her discovery was chilling and the perfect answer to set the stage of her skills. I love when an author shows us rather then tells us.
All the characters were well rounded. I enjoyed that Violet wasn't an outcast with one or two friends, but rather she was like most kids in school. She had her own group of friends, she wasn't in the 'it' group but she wasn't the kid that got picked on. It gave the book a far more realistic feel to it and it allowed for you to connect with the characters.
Derting's debut novel knocked it out of the park! I'll be eagerly awaiting her second book
Desires of the Dead
and highly recommend that you all pick up
The Body Finder
.
RATING:
♥ ♥ ♥ ♥ ♥