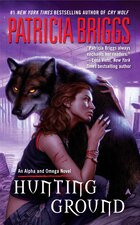 TITLE:
Hunting Ground
AUTHOR:
Patricia Briggs
SUMMARY:
Anne Latham didn't know how complicated life could be until she became a werewolf. And until she was mated to Charles Cornick, the son--and enforcer--of Bran, the leader of the North American werewolves, she didn't know how dangerous it could be either...
Anna and Charles have just been enlisted to attend a summit to present Bran's controversial proposition: that the wolves should finally reveal themselves to humans. But the most feared Alpha in Europe is dead set against the plan--and it seems like someone else might be, too. When Anna is attacked by vampires using pack magic, the kind of power only werewolves should be able to draw on, Charles and Anna must combine their talents to hunt down whoever is behind it all--or risk losing everything... - From Publisher
REVIEW:
I love the character of Anne, but I sorta wish we got more of her inner struggle.
It's not a secret that I'm in love with Brigg's Mercy Thompson series and that I'm also a fan of this series. I love her writing style and characters. My issue with Anne is that I want more of her turmoil. I feel like we got some of her inner conflict and her trying to deal with her past issues but I would love more. I would love to feel that oppressive feeling she gets when surrounded by dominates and her struggling with things. Meshing her human and wolf sides together. I guess, in short, I want her to be a bit more broken and for us, the readers, to get a better handle on how broken she truly is.
However, in no way do I think Briggs is gliding over her past or changing Anne's character I just want more. I did think we got some beautiful and touching moments in this installment but I'd like more. I'm a bit greedy that way.
What I have loved is Charles dealing with her. I love how off balance she makes him and I love reading how torn he is with trying to ensure he doesn't hurt her or scare her away with his past. It's all frustratingly beautiful.
As always, reading Briggs is pure reading enjoyment. I love her plots and characters and how she weaves things together. Will be eagerly awaiting more.
RATING:
♥ ♥ ♥ ♥ ♥