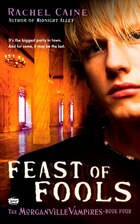 TITLE:
Feast of Fools
AUTHOR:
Rachel Caine
SUMMARY:
The wait is over. dig into the feast...
In the town of Morganville, vampires and humans live in relative peace. Student Claire Danvers has never been convinced, though especially with the arrival of Mr. Bishop, an ancient, old-school vampire who cares nothing about harmony. What he wants from the town's living and its dead is unthinkably sinister. It's only at a formal ball, attended by vampires and their human dates, that Claire realizes the elaborately evil trap he's set for Morganville. - From Publisher
REVIEW:
A great re-start to a series I was starting to get bored with.
When I first started reading this series I loved! It was fun and different and I found the scenarios that this motley crew got themselves involved in was humorous and always made for a fast paced, enjoyable read. However, the last book or two left me wanting more and a bit disappointed and bored. Thankfully this book definitely picked up and did some nice changing around with the characters and story line. I feel as though this series has been re-energized.
The new characters that Caine brought onto the canvas were perfect and just what was required. The beginning villains, while still are no where near being redeemed, were starting to be predictable. This new group is harder and far more blood thirsty.
All around I've starting to once again love this series and I'm looking forward to getting all caught up!
RATING:
♥ ♥ ♥ ♥ ♥