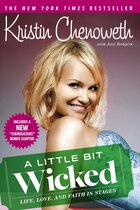 TITLE:
A Little Bit Wicked: Life, Love, and Faith in Stages
AUTHOR:
Kristen Chenoweth
SUMMARY:
A lively, laugh-out-loud journey from Oklahoma beauty queen to show biz sensation."Life's too short. I'm not."You might know her as a Tony Award-winning Broadway star who originated the role of Galinda the Good Witch in the smash musical Wicked. Or you may recognize her from her starring roles on TV-The West Wing, Pushing Daisies, and Sesame Street. At four foot eleven, Kristin Chenoweth is an immense talent in a petite but powerful package. Through a combination of talent, hard work, and (she's quick to add) the grace of God, Kristin took Broadway and Hollywood by storm. But of course, into every storm, the occasional drizzle of disaster must fall, and Kristin reflects on how faith and family have kept her grounded, even in tough times.Filled with wit, wisdom, and backstage insight, A Little Bit Wicked is long on love and short on sleep. It's essential reading for Kristin's legions of fans and an uplifting story for anyone seeking motivation to follow his or her dreams-over the rainbow and beyond.FEATURING CHENOLICIOUS RECIPES, KRISTIN'S ADVICE FOR YOUNG ACTORS, AND MUCH MORE! - From Publisher
REVIEW:
Chenoweth is adorable and this book is adorable. Her writing voice and style is just like her personality and it made it a joy to read.
I loved the little insights of her life and how open she was about everything. I think what endeared me to her was that while she has her beliefs she's not judging others. I find that refreshing.
All around a good book. For those that love her you'll enjoy this biography.
RATING:
♥ ♥ ♥ ♥ ♥