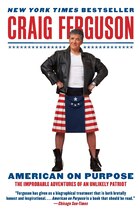 TITLE:
American on Purpose
AUTHOR:
Craig Ferguson
SUMMARY:
In American on Purpose, Craig Ferguson delivers a moving and achingly funny memoir of living the American dream as he journeys from the mean streets of Glasgow, Scotland, to the comedic promised land of Hollywood. Along the way he stumbles through several attempts to make his mark-as a punk rock musician, a construction worker, a bouncer, and, tragically, a modern dancer.
To numb the pain of failure, Ferguson found comfort in drugs and alcohol, addictions that eventually led to an aborted suicide attempt. (He forgot to do it when someone offered him a glass of sherry.) But his story has a happy ending: success on the hit sitcom The Drew Carey Show, and later as the host of CBS's Late Late Show. By far Ferguson's greatest triumph was his decision to become a U.S. citizen, a milestone he achieved in early 2008.
In American on Purpose, Craig Ferguson talks a red, white, and blue streak about everything our Founding Fathers feared. - From Publisher
REVIEW:
"Alright, my cheeky little monkeys!"
I adore Ferguson. I think he's a gem among the late night talk shows and is hands down my favorite among them. I knew the moment I watched his monologue about Britney Spears that he was different. I loved that he shared his story and was willing to be real with the viewers.
That made reading his story that much better. I knew he was talented and had struggles but in this book he was honest and real. I cried and laughed and was filled with joy that this man who had been so lost had been saved.
While diving into his dark and hazing from booze past I found Ferguson to be refreshing. Yes, he was telling us his story but never did it feel like a look what I've accomplished, I'm so amazing! Never did it get self-important. It was simply his story, with humorous portions, hitting the bottom of the barrel (I know I shouldn't laugh at the killer ducks but my mental comedy picture of it just causes me to chuckle) and painful ones. Probably the most honest biography I've read that didn't seem like a neon sign of "I'm Awesome".
For those that like his show you must read this book!
RATING:
♥ ♥ ♥ ♥ ♥