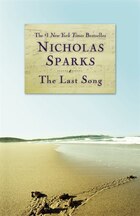 TITLE:
The Last Song
AUTHOR:
Nicholas Sparks
SUMMARY:
Seventeen year old Veronica "Ronnie" Miller''s life was turned upside-down when her parents divorced and her father moved from New York City to Wrightsville Beach, North Carolina. Three years later, she remains angry and alientated from her parents, especially her father...until her mother decides it would be in everyone''s best interest if she spent the summer in Wilmington with him. Ronnie''s father, a former concert pianist and teacher, is living a quiet life in the beach town, immersed in creating a work of art that will become the centerpiece of a local church.
The tale that unfolds is an unforgettable story of love on many levels--first love, love between parents and children -- that demonstrates, as only a Nicholas Sparks novel can, the many ways that love can break our hearts...and heal them. - From Publisher
REVIEW:
Nicholas Sparks once again writes a strong book that spins you around and makes you hit all the emotions. That's something I love about his work and I feel like throughout his book he's gotten strong and more refined.
His characters are always so vivid and within moments I often feel like I already know the cast and understand their reasoning's for their actions. All of them become alive and Sparks seems to consistently add nice little details that round them out even more and give the beginning glimpses of their characters.
Reading how Ronnie & her father interacted throughout the summer was brilliant, especially with the Sparks-twist that he enjoys torturing us with.
With his books it's all about the journey and with this one especially I thought he captured a young girls journey into adult hood. While I know some readers don't enjoy the pain that Sparks seems to drag his readers through, I'd highly recommend reading this one. Sure you may have to reach for the kleenex but it's worth it.
RATING:
♥ ♥ ♥ ♥ ♥