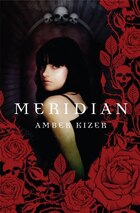 TITLE:
Meridian
AUTHOR:
Amber Kizer
SUMMARY:
Half-human, half-angel, Meridian Sozu has a dark responsibility.
Sixteen-year-old Meridian has been surrounded by death ever since she can remember. As a child, insects, mice, and salamanders would burrow into her bedclothes and die. At her elementary school, she was blamed for a classmate's tragic accident. And on her sixteenth birthday, a car crashes in front of her family home-and Meridian's body explodes in pain.
Before she can fully recover, Meridian is told that she's a danger to her family and hustled off to her great-aunt's house in Revelation, Colorado. It's there that she learns that she is a Fenestra-the half-angel, half-human link between the living and the dead. But Meridian and her sworn protector and love, Tens, face great danger from the Aternocti, a band of dark forces who capture vulnerable souls on the brink of death and cause chaos. - From Publisher
REVIEW:
Enjoyable. A fun, fast paced read that's a good stepping stone for this series to expand and grow.
The plot itself was steady and enjoyable. I liked that we didn't have lots of dry spells; on the flip side I felt like the plot sorta moved a bit too fast in certain areas. I wouldn't have minded some more doubt and reaction from Meridian about the legacy she's from. She seemed to roll with it a bit too easy. Even her relationship with Tens, while it progressed slow I would've been okay if it simmered a bit longer. The simmering is always my favorite part. However, I must praise Kizer for making their relationship actually age appropriate. I liked the way Kizer wrote them, despite my wish for the simmer. I can't wait to find out what all happens in the next book of this series.
I enjoyed the world that Kizer created and how with the beginning of each chapter we got a little bit of history. It really added to the 'verse that's shaped and makes the world even more tangible. I enjoy when a fiction author adds something to make it more realistic.
All around I'm eager to read the second book and anxiously anticipating what's to come!
RATING:
♥ ♥ ♥ ♥ ♥