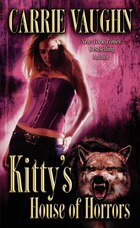 TITLE:
Kitty's House of Horrors
AUTHOR:
Carrie Vaughn
SUMMARY:
REALITY BITES
Talk radio host and werewolf Kitty Norville has agreed to appear on TV''s first all-supernatural reality show. She''s expecting cheesy competitions and manufactured drama starring shapeshifters, vampires, and psychics. But what begins as a publicity stunt will turn into a fight for her life.
The cast members, including Kitty, arrive at the remote mountain lodge where the show is set. As soon as filming starts, violence erupts and Kitty suspects that the show is a cover for a nefarious plot. Then the cameras stop rolling, cast members start dying, and Kitty realizes she and her monster housemates are ironically the ultimate prize in a very different game. Stranded with no power, no phones, and no way to know who can be trusted, she must find a way to defeat the evil closing in . . . before it kills them all. - From Publisher
REVIEW:
Kitty's adventures just keep getting better and better along with becoming more addicting with each book!
I feel like I often say this about every book when it comes to this series but honestly, this is one of my favorites. I loved the darker aspects of this book; by darker I mean the unleashed violence of being locked in a house of reality terror. Vaughn really struck gold with this plot. I felt like it was a brilliant way to dive deeper into some major players 'end game' that we learned about in
Kitty Raises Hell
without the book becoming 300 pages of Kitty researching and asking questions.
The plot was fast paced and really put Kitty in a dire situation without her mate. And I think it was another stepping stone in showing how much our beloved wolf has grown. Vaughn has developed her characters so fabulously, never have I read one of her books and thought 'wow, where did this OOC come from?'. She writes in such a way that it just slowly happens; so feel safe in knowing that in no way does this book show Kitty as a hardened veteran battling the baddies but it definitely establishes that push come to shove our girl can push back and hard.
I did miss the lack of Ben in this book. I love Kitty and Ben's interaction and they are among the few couples that were once in a potential love triangle and they actually ended up together. Normally in triangles, the pairing that occurs isn't the one I wanted. So, I love these two even more then normal because they beat the book triangle odds! Thankfully the time we did get between them was full of substance and had me smiling with glee.
This book also brought the return of a beloved character and even if the plot and tease of ones end game wasn't involved I'd still be enthralled with this new addition simply for the return.
If you haven't read any of this series I highly encourage you to pick it up. It's one series that I've loved from the start and will now be impatiently waiting the next book in this series.
RATING:
♥ ♥ ♥ ♥ ♥