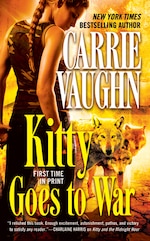 TITLE:
Kitty Goes to War
AUTHOR:
Carrie Vaughn
SUMMARY:
Kitty Norville, Alpha werewolf and host of The Midnight Hour, a radio call-in show, is contacted by a friend at the NIH's Center for the Study of Paranatural Biology. Three Army soldiers recently returned from the war in Afghanistan are being held at Ft. Carson in Colorado Springs. They're killer werewolves-and post traumatic stress has left them unable to control their shape-shifting and unable to interact with people. Kitty agrees to see them, hoping to help by bringing them into her pack.
Meanwhile, Kitty gets sued for libel by CEO Harold Franklin after featuring Speedy Mart--his nationwide chain of 24-hour convenience stores with a reputation for attracting supernatural unpleasantness--on her show.
Very bad weather is on the horizon. - From Publisher
REVIEW:
This series continues to exceed my expectations. Whenever I go to pick up the new Kitty Norville book I always get some trepidation on whether this book will be the one that leaves me with that uncomfortable disappointment that eats at me. Thankfully it seems with each new installment Vaughn continues to keep up the pace and brings new angles to keep us readers hooked.
What I loved about this installment was that some old characters where brought back. Back in book
Kitty Goes to Washington
we got to meet the Doctor that exploited Kitty now he's back. While he doesn't make any face time we do get to see his 'work'. I'm so happy that Vaughn tied in previous characters and I loved that angle of using the supernatural in human wars. It adds depth to the book and I'm hoping that we go down this path more and more.
If you haven't picked up the series I highly recommend that you do. The first few books are a bit tedious to get through, however I loved them but I know other reviewers weren't instant fans of this series. Regardless, pick 'em up and enjoy the ride.
RATING:
♥ ♥ ♥ ♥ ♥